New Adventures in Web Design 2011
So I've just got back from the very first New Adventures in Web Design conference, and boy was it one to remember. I'm not a conference virgin so I had a good catalog of expectations, most of which were surpassed.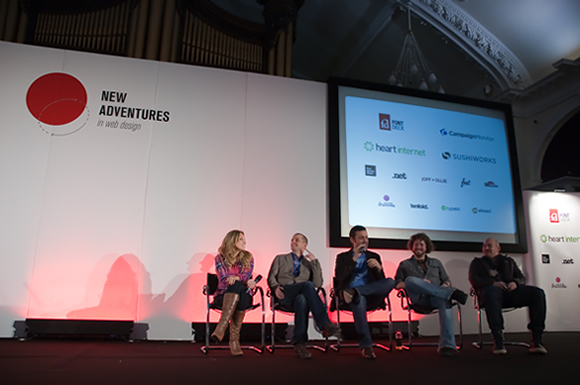 Getting There
I went to Nottingham with three local lads, road tripping it up in a rental car was not only cheaper than a train but a darn sight easier too. Getting into the city was extremely easy, parking was even easier and a short walk up the road and we were successfully checked into the hotel.
In fact everything we needed was within spitting distance from the hotel, that being the main venue, various pubs / clubs, after party venues etc. So for those thinking of going next year (Simon has suggested a sequel is on the cards) then don't be put off by the logistics of getting to / being in the city centre.
The Venue
New Adventures was held at the Albert Hall in Nottingham, a fantastic venue with some fantastically painful seats! 650 people eventually got through the door after a slight delay with registration, not that most minded, this delay was handled extremely well, in fact the organisers were extremely informative both before and during the conference, something that I really appreciated.
Simon made the decision not to have venue WiFi, this kept the cost down and in general kept most of the attendees listening instead of coding or emailing, however this didn't stop some people.
Speakers
I was impressed with some of the presentations, specifically those by Jon Tan and Brendan Dawes, the use of emotion and humour respectively certainly made me sit up and pay attention  (despite the painful seats!). Brendan's talk was the last of the day, and his use of humour was very much appreciated, it certainly drove his point home.
I felt other talks such as those by Dan Rubin, Sarah Parmenter, Elliot Jay Stocks and Veerle Pieters were also very good, especially Elliot's of which I had been thinking in depth not so long ago (I knew I should have blogged about it!).
The talks were all informative and inspirational, some more than others but I feel it would be harsh to bad mouth specific speakers who don't appeal to me directly, that's more of a personal thing.
Meeting New (And Old) Faces
Many of the people I follow on Twitter made it to the conference and pre/post parties, and I was fortunate to catch up with most of them, but perhaps disappointed I hadn't spoken to more. That said I met many more new people and had many great discussions about the days adventures as well as other geeky topics.
I figure it would be a good thing to give a quick shout out to those who I spoke to, so here goes:
Alun Rowe, John Hicks, Andrew Horth, Colin Watts, Tanya Newell, Mike McKelvaney, Harry and Louise Harris, Kris Noble, Michael Heap, Matt Croucher, Steve Lacey, Kyle Ridolfo… sorry if I've forgotten anyone, that'll teach you for not giving me a business card :P.
Final Thoughts
The first thing I guess I should mention is the incredible value for money, I paid £80 for an early bird ticket and for the quality of the speakers and their talks this left me very happy.
I'd like to saying a massive thank you to Simon on behalf of all that attended, the conference was executed extremely well, provided amazing speakers and was affordable too, what could anyone complain about.
For those who didn't make it this year keep your eyes peeled for next years New Adventures conference, if it's anything like this one the tickets will go on sale in the summer so jump on it quickly.